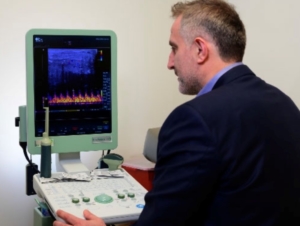 See Dr. Tajkarimi for consultation, exam, and penile duplex ultrasound
Lack of response to oral ED medications or losing your erections before you and/or your partner are satisfied may indicate profound and severe blood vessel disease to the penis or leakage of blood out of penis during erection. Early onset erectile dysfunction (ED) is an early sign of worrisome heart disease, impending heart attack, even sudden death.
IF YOU ARE LESS THAN 55 AND CAN'T GET A FIRM ERECTION, READ THE FOLLOWING PARAGRAPH WITH EYES WIDE OPEN AND FOLLOW IT NOW!
(If you are less than 45, even more))
Get in shape fast, eat clean & lose weight, drink 100 oz of water a day, stop bad habits (smoking, drinking, drugs). Check your blood pressure, sugar and lipids. See Dr. Tajkarimi.